2013 FORD RAPTOR SDHQ Detailing Hotline 281-216-5833
This beast was detailed in LAS VEGAS for the 2013 SEMA Auto Show. Myself and my buddy Terry and his wife Ernestine own a detailing company in LAS VEGAS.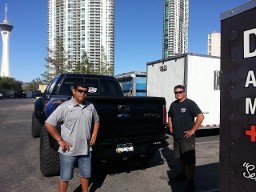 They helped me bring the 'SHINE' to this 800+hp BEAST. We deep cleaned the paint and the motor and detailed the wheels. We can detail your vehicle anywhere in the world!