AIR FORCE ONE RESTORATION DETAIL 2011
Sponsor Opportunity Available- The pictures below are from my trip to Seattle, Washington july 23-aug 3 2011. We are scheduling another trip in the near future and this time we will be detailing 2 Planes! Our upcoming trip will not only be for another round of detailing AIR FORCE ONE... but we will also be restoring the #1 PRODUCTION OF A 737!!
For you or your company's sponsoring my travel expenses and material , I will wear your company's branded shirts or caps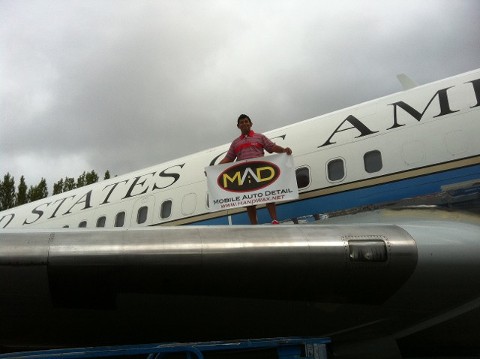 and make you a video of myself on the wings of these awesome aircraft thanking you or your company for your support. Email me at Info@HandWax.net or call me directly at 281-216-5833 to get further information as to how this unique opportunity will spotlight your company on the internet through our affiliate websites, multimedia presentations, social network sites, local and national press, Youtube videos, etc. To obtain this buzz for your company would cost an enormous amount of advertising dollars. By sponsoring me ( THE ONLY PROFESSIONAL DETAILER IN TEXAS TO BE NAMED TO THE AIR FORCE ONE DETAILING TEAM FOUR TIMES! ) you will gain local and national notoriety for a fraction of the cost and assist me in restoring a national treasure and a very historical piece of aviation history!