HYUNDAI GENESIS COUPE 3.8 Detailing Hotline 281-216-5833
This little blue number was treated to the best products and polishing money could buy. This client was travelling to a 'meet' and going to drive The Dragon. The roadway is in North Carolina and has over 300 curves/ twists and is 11 miles long. This Coupe was shining better than the day he brought it home from the dealership!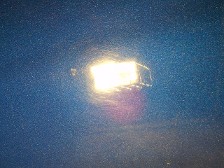 <<<<This before pic shows the reflected light with surface scratches and a dull paint finish
This is a pic that shows what the car will look like after I am finished POLISHING it. The results are dramatic and tedious and take 3-4 steps with a machine polisher. The reflection is shiny and clearer and the scratches in the above pic are being removed and nothing but SHINE is left!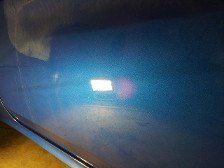 The pics below show my finished results and not only is the vehicles paint, leather, wheels, and carpet back to factory standards...the paint is protected for months to come and will look great with minimal effort and upkeep will take little time.