We protect all sorts of fabrics from all types of staining - water and oil based. Fabrics that are treated will generally wear less and have more color and less piling than the exact same fabric that was untreated.
This pic fully demonstrates our claims and makes your interior of your car or home WATERPROOF or at the very least WATER RESISTANT and easy to clean. This is a simple cotton microfiber towel that I treated with the waterproof coating and now when I spill water on it; it just repels water and the towel is dry to the touch.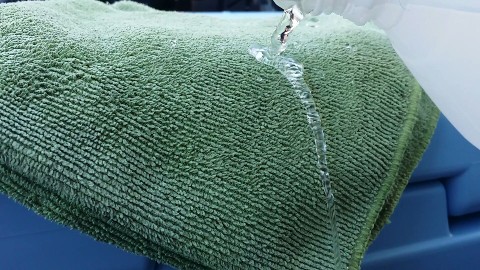 This ordinary towel is now WATERPROOF and will not soak or swell or rot. From awnings, to sofas, to carpets and convertible car tops to the interior of your car's seats and carpets. Even sails and tents can now be ultra durable and easy to clean!
Each fiber of the fabric is coated indiviually, the texture is unaffected and the nano particles allow the material to breathe easily.